Texas' odds of Harvey-scale rainfall to increase by end of century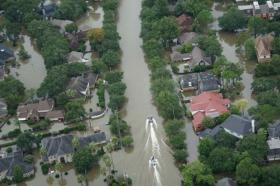 As the city of Houston continues to recover and rebuild following the historic flooding unleashed by Hurricane Harvey, the region will also have to prepare for a future in which storms of Harvey's magnitude are more likely to occur.
A new MIT study, published online this week in the Proceedings of the National Academy of Sciences, reports that as climate change progresses, the city of Houston, and Texas in general, will face an increasing risk of devastating, Harvey-scale rainfall.
According to the study, the state of Texas had a 1 percent chance of experiencing rainfall of Harvey's magnitude for any given year between 1981 and 2000. By the end of this century, the annual probability of Hurricane Harvey's record rainfall returning to Texas will rise to 18 percent, if the growth of greenhouse gas emissions to the atmosphere continues unmitigated.
Read more at Massachusetts Institute of Technology (MIT)
Image Credit: MIT