Virginia Tech works to protect Africa's crops against invasive pests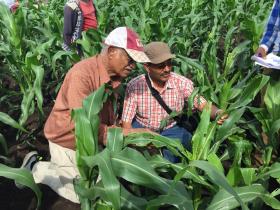 As invasive and indigenous insect pests continue to wreak havoc on crops across Africa, a Virginia Tech-led project is intensifying its work to coordinate a response that looks beyond geographic and financial barriers.
Stopping crop losses requires working across borders, said Muni Muniappan, director of the Virginia Tech-led Feed the Future Innovation Lab for Integrated Pest Management. "Fighting these pests in just a few of these countries is futile, because it will continue to thrive in the countries where we are not working," he said.
With the United Nations signaling that hunger is a problem for more than a quarter of adults in sub-Saharan Africa, helping farmers in Africa is a crucial goal for the Innovation Lab.
Muniappan – at an emergency meeting in Entebbe, Uganda, organized by the International Maize and Wheat Improvement Center – joined a group in September laying out a roadmap for controlling fall armyworm. He called for creation of a database to cover all of Africa listing the pest's natural enemies, with the cooperation of USAID, the Food and Agriculture Organization of the United Nations, and other international agencies.
Continue reading at Virginia Tech.
Image via Virginia Tech.