Correctly Used Neonics Do Not Adversely Affect Honeybee Colonies, New Research Finds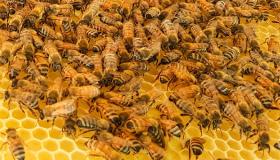 The three most widely used neonicotinoid pesticides for flowering crops pose no risk to honeybee colonies when used correctly as seed treatments, according to new studies by University of Guelph researchers.
Amid mounting controversy over use of neonicotinoids (neonics) and declining bee populations, a new analysis by U of G scientists of previously unpublished studies and reports commissioned by agri-chemical companies Bayer and Syngenta – as well as published papers from the scientific literature – shows no significant ill effects on honeybee colonies from three common insecticides made by the companies.
The findings are described in five papers published this month by Keith Solomon, a toxicologist and emeritus professor with the School of Environmental Sciences, and adjunct professor Gladys Stephenson in the Journal of Toxicology and Environmental Health-B.
The duo analyzed 170 unpublished studies that Syngenta and Bayer had submitted to regulatory agencies. They also included 64 papers from the open, peer-reviewed literature on the topic.
Continue reading at University of Guelph.
Image via University of Guelph.