Climate-Friendly Architecture Thanks to Natural Folding Mechanisms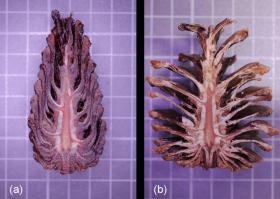 Active components on buildings such as blinds whose design was copied from naturally occurring solutions — that is the subject of the research conducted by a team from the Technical University of Munich (TUM), the University of Freiburg, and the University of Stuttgart. The aim is to equip them with drive elements that can move without any electrical energy input. Serving as a model here are conifer pine cones, which utilize the varying swelling behaviors of their tissue to open when moist or close when dry.
Worldwide, the use of buildings accounts for 40 percent of total energy consumption. Around half of this is used for climate control. Although blinds and other mobile facade elements can be used to optimize the building shell's transparency to heat and light, their electric motors also require energy to move these systems.

"Sustainable architecture urgently requires new materials if it is to live up to the high energy efficiency and climate protection requirements", says the chemist, forest scientist, and materials researcher Professor Cordt Zollfrank. At the Chair of Biogenic Polymers on the TUM Campus Straubing for Biotechnology and Sustainability, he is researching the related basic principles. His goal is to develop drive elements and actuators which are able to convert signals into mechanical movements without consuming energy.
Read more at Technical University of Munich (TUM)
Image: The model for the movable components of buildings are cones of coniferous wood, which open (right) or close in dryness due to the different swelling behaviour of their fabric. (Credit: C. Zollfrank/ TUM)