Researchers Model Optimal Amount of Rainfall for Plants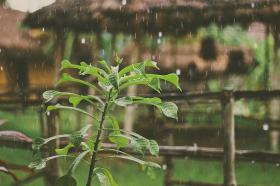 Researchers have determined what could be considered a "Goldilocks" climate for rainfall use by plants: not too wet and not too dry.
But those landscapes are likely to shrink and become less productive in the future through climate change, said Stephen Good, a hydrologist at Oregon State University and lead author on a recent study, published in the journal Nature Ecology and Evolution.
Good led a research team that used models to determine the optimal amount of rainfall for the plants to be most productive in ecosystems.
"We found that the fraction of rainfall an ecosystem can use is largest at intermediate climates," said Good, assistant professor in OSU's College of Agricultural Sciences. "We're seeing through climate change that wet landscapes are getting wetter and dry landscapes are getting drier. Ecosystems in both of these types of climate will use less of their rainfall for growth."
Read more at Oregon State University
Photo credit: Free-Photos via Pixabay