The Caribbean Is Stressed Out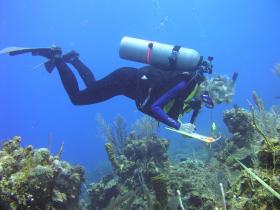 Forty percent of the world's 2.5 billion people live in coastal cities and towns. A team including Smithsonian marine biologists just released 25 years of data about the health of Caribbean coasts from the Caribbean Coastal Marine Productivity Program (CARICOMP). The study provides new insights into the influence of both local and global stressors in the basin, and some hope that the observed changes can be reversed by local environmental management.
The largest, longest program to monitor the health of the Caribbean coastal ecosystems, CARICOMP revealed that water quality decreased at 42 percent of the monitoring stations across the basin. However, significant increases in water temperature, expected in the case of global warming, were not detected across sites.
"We're seeing important changes in local conditions, like decreases in visibility associated with declining water quality and the increasing presence of people, but we're not picking up global-scale changes, like climate warming," said Iliana Chollett, post-doctoral fellow at the Smithsonian Marine Conservation Program in Fort Pierce, Fla.
Continue reading at Smithsonian Tropical Research Institute
Photo: A researcher surveys CARICOMP tranects. CREDIT: Karen Koltes