Agricultural Parasite Takes Control of Host Plant's Genes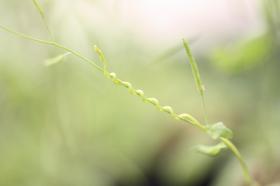 Dodder, a parasitic plant that causes major damage to crops in the U.S. and worldwide every year, can silence the expression of genes in the host plants from which it obtains water and nutrients. This cross-species gene regulation, which includes genes that contribute to the host plant's defense against parasites, has never before been seen from a parasitic plant. Understanding this system could provide researchers with a method to engineer plants to be resistant to the parasite. A paper describing the research by a team that includes scientists at Penn State and Virginia Tech appears January 4, 2018 in the journal Nature.
"Dodder is an obligate parasite, meaning that it can't live on its own," said Michael J. Axtell, professor of biology at Penn State and an author of the paper. "Unlike most plants that get energy through photosynthesis, dodder siphons off water and nutrients from other plants by connecting itself to the host vascular system using structures called haustoria. We were able to show that, in addition to the nutrients that flow into dodder from the host plant across the haustoria, dodder passes microRNAs into its host plant that regulate the expression of host genes in a very direct way."
MicroRNAs are very short bits of nucleic acid -- the material of DNA and RNA -- that can bind to messenger RNAs that code for protein. This binding of microRNA to messenger RNA prevents the protein from being made, either by blocking the process directly or by triggering other proteins that cut the messenger RNA into smaller pieces. Importantly, the small remnants of the messenger RNA can then function like additional microRNAs, binding to other copies of the messenger RNA, causing further gene silencing.
Read more at Penn State
Image: Dodder, a parasitic plant, attached to a host plant from which it obtains water and nutrients. The parasite inserts microRNAs into the host that can silence the expression of host genes. This is the first example of cross-species gene regulation observed in a parasitic plant. (Credit: Penn State University)