Polluted woods: leaves contaminate soil with hydrocarbon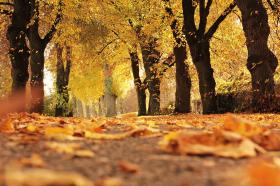 In the Autumn leaves fall and apparently contaminate soil. It happens in the Italian woods where remediation is required by law for heavy hydrocarbon concentration greater than 50 milligrams per kilo.
It was revealed by a study conducted by scientists at Ca' Foscari University of Venice and The Institute for the Dynamics of Environmental Processes (CNR) in collaboration with the Società estense servizi ambientali, a specialized company based in Padua.
The researchers have identified natural hydrocarbons in woods and farmlands that had been fertilized with artificial fertilizer, compost or digestate in the past ten years. Soil samples showed high levels of hydrocarbons, especially for samples taken in the woods with concentrations that reached up to four times the legal limit.
Foliage would be to blame for this contamination. "The surface of the leaves is covered with waxes containing hydrocarbons, and when falling they contaminate the soil - explained Marco Vecchiato, post-doc fellow at the Department of Environmental Sciences, Informatics and Statistics at Ca' Foscari - but even if this concentration appears to be higher than legal limits, it does not necessarily entail toxicity hazard".
Continue reading at Ca' Foscari University of Venice
Image via Pixabay