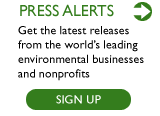 editorial_affiliates
Our Editorial and News Affiliates
TriplePundit is a tripod of resources surrounding the Environment, Society and Business. You can't have a successful economy without a healthy environment and a healthy society, and vice versa. That concept is called the triple bottom line, which is where the triple part of the name comes from. It's a new and broader way of looking at business and the world.

The model of the site is to be a digest. Triple Pundit is not offering heaps of editorial commentary, just talking about things they've found valuable and interesting.
Website: http://www.triplepundit.com/
Contact:
Nick Aster
Great Lakes water levels are at historic lows, 26 inches below their long term averages, raising prices right at the beginning of the supply chain for iron ore, grain, and coal. For every inch the water levels fall, a freighter needs to leave another 100 tons of goods behind on the dock. That means one of the cheapest and most efficient ways to move freight in the world becomes less efficient and more expensive as the water levels drop. It's important to note that over 160 million tons of goods are carried on the Great Lakes each year, keeping our nation's industrial belt supplied with raw materials. When ships carry less cargo, the cost per delivered unit increases even before the ore gets turned into steel, translating directly to higher cost for manufacturers and consumers.