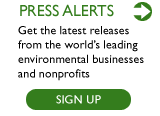 editorial_affiliates
Our Editorial and News Affiliates
TriplePundit is a tripod of resources surrounding the Environment, Society and Business. You can't have a successful economy without a healthy environment and a healthy society, and vice versa. That concept is called the triple bottom line, which is where the triple part of the name comes from. It's a new and broader way of looking at business and the world.

The model of the site is to be a digest. Triple Pundit is not offering heaps of editorial commentary, just talking about things they've found valuable and interesting.
Website: http://www.triplepundit.com/
Contact:
Nick Aster
Many people have asked me about the feasibility of "clean coal" paired with carbon capture and sequestration (CCS) as a genuine option for a more sustainable future. In a previous article I wrote about coal-fired power plants (see AskPablo: Coal-Fired Power Plants) so I won't beat that dead horse too much. However, I will discuss coal-to-liquids as well as the feasibility of CCS.
Some politicians will have you believe that coal-to-liquids is a viable and sustainable alternative to our dependence on oil-based fuels. Whether or not these politicians are from coal-rich states, or which party they belong to I will leave up for you to explore.