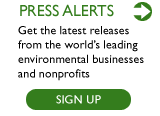 editorial_affiliates
Our Editorial and News Affiliates
Resources for the Concerned Citizen



Environmental writer Tom Schueneman, a contributor to numerous environmental and sustainability-focused blogs and websites, publishes his flagship blog GlobalWarmingisReal as a resource of news, commentary, and information on climate change, energy, and sustainability. \


Climate change and sustainability are the issues of our generation. Meeting the challenge is a three-legged stool requiring action from individuals, business, and government. GlobalWarmingisReal addresses those three aspects of change (or lack thereof) through essays, research, and news reporting. Our aim is to help the concerned citizen understand the importance and urgency of the issues we face in the 21st century.

Website: http://www.globalwarmingisreal.com/blog/
Contact:
Tom Schueneman

tschueneman@gmail.com
After three years of ongoing research by an international team of scientists, a study commissioned by the Arctic Monitoring and Assessment Programme for a first-ever comprehensive assessment of Arctic Ocean acidification was presented last week at a meeting of Arctic Council Ministers in Bergen, Norway. The research show that the cold waters of the Arctic sea are more vulnerable to acidification. Cold water more readily absorbs CO2 and combined with the precipitous drop in summer sea ice extent, thus exposing more open water, northern oceans are rapidly acidifying.