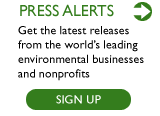 editorial_affiliates
Our Editorial and News Affiliates
Resources for the Concerned Citizen



Environmental writer Tom Schueneman, a contributor to numerous environmental and sustainability-focused blogs and websites, publishes his flagship blog GlobalWarmingisReal as a resource of news, commentary, and information on climate change, energy, and sustainability. \


Climate change and sustainability are the issues of our generation. Meeting the challenge is a three-legged stool requiring action from individuals, business, and government. GlobalWarmingisReal addresses those three aspects of change (or lack thereof) through essays, research, and news reporting. Our aim is to help the concerned citizen understand the importance and urgency of the issues we face in the 21st century.

Website: http://www.globalwarmingisreal.com/blog/
Contact:
Tom Schueneman

tschueneman@gmail.com
A rapid decline for Arctic sea ice extent briefly hit daily record lows in June, led by extensive ice loss in the Bering, Kara, and Beaufort Seas, as well as Hudson and Baffin Bay. Snow extent was unusually low for both May and June, reinforcing the continuing pattern of rapid spring snow melt of the past six years. Average Arctic sea ice extent for June was 4.24 million square miles (10.97 million square kilometers), 456,000 square miles below the 1970-2000 average sea ice extent. Sea ice extent for June 2010, 2011, and 2012 has been the lowest in the satellite record.