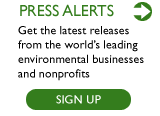 editorial_affiliates
Our Editorial and News Affiliates
With more than one million unique visitors per month, Mongabay.com is one of the world's most popular environmental science and conservation news sites. The news and rainforests sections of the site are widely cited for information on tropical forests, conservation, and wildlife.

Mongabay.com aims to raise interest in wildlife and wildlands while promoting awareness of environmental issues. Originally the site was based around a text on tropical rainforests written by Rhett A. Butler, but today the site has expanded to other topics (like Madagascar [WildMadagasacar.org]) and is available in versions for kids and in more than two dozen non-English languages. Mongabay.com is also publisher of Tropical Conservation Science, a peer-reviewed, open-access academic journal that seeks to provide opportunities for scientists in developing countries to publish their research in their native languages.
Website: http://www.mongabay.com/
Contact:
rhett (at) mongabay.com
The Egyptian jackal, which may have been the inspiration for the Egyptian god Anubis, is actually not a jackal at all but a member of the wolf family. New genetic research in the open-access journal PLoS ONE finds that the Egyptian jackal is Africa's only member of the gray wolf family. The new wolf, dubbed by researchers as the African wolf, is most closely related to the Himalayan wolf.