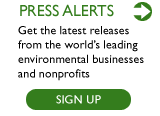 editorial_affiliates
Our Editorial and News Affiliates
The Ecologist has been setting the environmental agenda since 1970, first as a magazine and now exclusively online at www.theecologist.org.
Launched by Teddy Goldmsith, the Ecologist shot to fame in 1972 for devoting an entire issue to its Blueprint for Survival, a radical manifesto for change that proposed, amongst other reforms, the formation of a movement for survival. This led to the creation of the People Party, later renamed the Ecology Party and finally the Green Party.
Today the Ecologist examines the connection between a wide range of subjects. Whether itís food, war, politics, pharmaceuticals, farming, toxic chemicals, corporate fraud, mass media or supermarkets, the Ecologist challenges conventional thinking and empowers readers to tackle global issues on a local scale.
With thought-provoking investigations by leading experts and daily news and analysis the Ecologist website is an indispensable guide for anyone re-thinking their basic assumptions about the world we live in.

Website: http://www.theecologist.org/
Contact:
ecosystems@theecologist.org
Tel: +44 (0) 207 422 8100
Fax: +44 (0) 207 422 8101
Address: 102D Lana House, 116-118 Commercial Street, London E1 6NF, UK.
E-mail: ecosystems@theecologist.org

Water management is a major issue in large urban areas, where after heavy rainfall, rooftops, streets and pavements act as funnels. This sends huge volumes of water very quickly into drainage systems, putting pressure on rivers and increasing the risk of flooding. In contrast, undeveloped land absorbs and utilises water, thus slowing its progress to rivers. It is this natural bioretention that our towns and cities must learn to mimic. Rain gardens do just that. In its most basic form a rain garden is a planted depression in the ground, providing porous and absorbent materials into which water can soak, with plants that can withstand occasional temporary flooding.