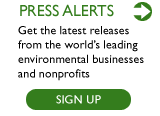 editorial_affiliates
Our Editorial and News Affiliates
The world's leading environmental affairs magazine, now theecologist.org, was founded in 1970 by Edward Goldsmith. The magazine quickly became a platform for those who would go on to be the leading lights of the environmental movement.
Website: http://www.theecologist.org/
Contact:
Tel: +44(0)20 7422 8100

Address:
102 D Lana House Studios
116 - 118 Commercial Street
Spitalfields
London
E1 6NF
United Kingdom



The renowned primatologist and conservationist on the need for scientific empathy, the impact of economic development, and why children give her hope for the future.
Overuse of nitrogen fertilisers in China is leading to rapid soil acidification and is causing lasting damage to ecosystems, according to soil study Nitrogen fertilisers used to increase crop yields in China are having "extreme" environmental consequences, according to a study from leading soil scientists.