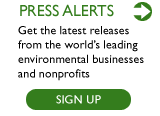 editorial_affiliates
Our Editorial and News Affiliates
Justmeans helps companies engage with people on issues of

social responsibility using our simple technology tools.
Companies are able to reach over 200,000 thought leaders
on Justmeans.com along with millions of the right people
on Facebook and Twitter.
Website: http://www.justmeans.com/
Contact:
New York Office: +1 917-326-8944
London Office: +44 (0) 203-238-2121
General Inquiry: info@justmeans.com

Joel Jackson arrived in Kenya in 2009 and immediately had a social innovation idea—yet it had nothing to do with the not-for-profit farming organisation that he had come with. It wasn't farming that caught Joel's attention, it was the state of the African roads: the lack of appropriate transport that has affected many parts of rural Africa, keeping areas remote. Joel Jackson rolled up his sleeves and set about building a vehicle that would serve the African market; a $6,000 (£3,850) car called the Mobius One. Africa's poorest are largely immobile and do not have appropriate transport services. Every day millions of people often walk 10+ miles to get to basic amenities such as clean drinking water, schools, hospitals and jobs. Chronic government underinvestment in roads and public transit has restricted travel. Africa's most disadvantaged cannot afford to buy a car, yet need reliable transport services to prosper.