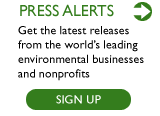 editorial_affiliates
Our Editorial and News Affiliates
Justmeans helps companies engage with people on issues of

social responsibility using our simple technology tools.
Companies are able to reach over 200,000 thought leaders
on Justmeans.com along with millions of the right people
on Facebook and Twitter.
Website: http://www.justmeans.com/
Contact:
New York Office: +1 917-326-8944
London Office: +44 (0) 203-238-2121
General Inquiry: info@justmeans.com

Denmark, like, Germany, her neighbor to the south, is a country that takes renewable energy seriously. The wind energy industry alone in Denmark is booming with companies like Vestas and Siemens Wind Power both having production facilities and bases of operation on Danish soil. Denmark's own wind based energy also grows exponentially each year leaving many optimistic that the nation might be one of the few who can achieve 100% renewable energy in the next several decades.