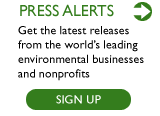 editorial_affiliates
Our Editorial and News Affiliates
Promoting the Conservation of the World's Threatened Species, Through the Power of Wildlife Imagery
Website: http://arkive.org
Contact:
UK
ARKive
Wildscreen
Ground Floor
The Rackhay
Queen Charlotte Street
Bristol
BS1 4HJ
UK
(t) +44 (0) 117 328 5950
(f) +44 (0) 117 328 5955
(e) arkive@wildscreen.org.uk

USA
ARKive
10 G St NE, Suite 710
Washington, DC 20002
Tel: 202-248-5066


The first common crane egg in the western United Kingdom in over 400 years has been laid at WWT Slimbridge Wetland Centre in Gloucestershire, England. A round-the-clock guard has been set up to protect the egg from collectors, as despite egg collecting being illegal in the UK it is still practiced by an unscrupulous minority. Video cameras are in place to allow the public to view the nest, as well as to provide important footage for conservation scientists. Lucky visitors can also view the nest from the centre's bird hides.