Ice-Based Airconditioning Takes Off In California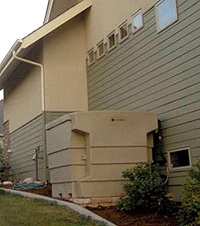 SAN FRANCISCO - A company that makes an ice-based air-conditioning system is teaming up with a major public utility, PG & E, in California in a $10-million dollar project. The ice-based air conditioner uses cheaper nighttime electricity to make ice and then uses that ice for daytime cooling needs. The units cooling looks almost identical to a standard AC unit. The systems lowers peak daytime demand significantly, shifting the energy load up to 95%.

A company called Ice Energy makes the system. Today they announced their role in PG&E's new $10 Million "Shift and Save" program, designed to ensure continued power reliability and sustainability by permanently reducing peak demand on the electricity grid. In collaboration with vendor technologies such as Ice Energy's Ice Bear hybrid air conditioning system, the "Shift and Save" program provides incentives that cut air conditioning peak electrical demand on light commercial and institutional buildings.

Ice Energy's hybrid cooling technology fulfills PG&E's program goals by permanently shifting up to 95 percent of air conditioning load while providing full cooling performance.

The California Public Utilities Commission says permanent load shifting technologies deliver a number of benefits to both utilities and energy consumers, including added protection against shortages during heat waves and reduced reliance on the construction of new generation plants. "Programs such as 'Shift and Save' are the surest way to meet California's growing energy demand and address climate change," said Steve De Backer, Senior Program Manager at PG&E. "We welcome the opportunity to work with vendors that share our goals of reducing the need for fossil-fuel based energy and improving California's air quality."


PG&E's selection of Ice Energy within the "Shift and Save" initiative adds to a growing number of municipalities, utilities and communities throughout California that are working with Ice Energy to green the summer peak by reducing the need for peak day fossil fueled power. Ice Energy and the City of Victorville recently won California's prestigious Flex Your Power award for a citywide initiative and Anaheim Public Utility won a national energy efficiency award from the American Public Power Association.

About Ice Energy, Inc.

Ice Energy is an energy technology company focused on energy storage and advanced cooling and refrigeration products and technologies. The company manufactures and markets a new Energy Storage Air Conditioner product line for residential and commercial applications that addresses the increasing demand for electricity. Ice Energy's products shift the largest component of residential and commercial peak demand -- air conditioning -- from expensive "on-peak" times of the day to "off-peak" periods, when energy is less expensive and less polluting. Approved as an optional compliance measure for California's Title 24 building energy efficiency standards, the Ice Bear system provides superior cooling comfort while significantly reducing the cost of energy.

For more information visit http://www.ice-energy.com/