Kansas Vetos Coal Power: Health Risks Cited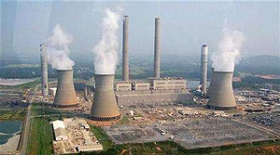 LOS ANGELES (Reuters) - Opponents of coal-fired power plants say they were given a new weapon last week when Kansas became the first state to reject a coal-fired power plant solely on the basis of the health risks created by carbon dioxide emissions.
A dozen states have rejected plans for new coal-fired power, at least in part because of concerns over carbon dioxide (CO2) emissions. However, Kansas does not regulate carbon emissions and is believed to be the first state to tie CO2 to health risks and use that as the only stated reason for denying a required air permit, said Bruce Nilles, head of the Sierra Club's national effort to stop new coal plants and retire the dirtiest of existing ones.
In announcing his decision, Kansas health and environment secretary Roderick Bremby referred to last April's Supreme Court case between Massachusetts and the federal Environmental Protection Agency. The court found that CO2 meets the broad definition of an air pollutant under the Clean Air Act.
The Kansas rejection combined with the Supreme Court decision will be used as a precedent by coal power opponents in a slew of upcoming permit appraisals by other states, Nilles said.
It was not the first time that a state rejected a plant because of concerns over CO2 emissions which make up more than 85 percent of the greenhouse gas emissions that cause global warming. Coal-fired power plants are the leading emitters of CO2.
The proposed expansion of a coal power plant in western Kansas was the 22nd project in 12 states scuttled by state agencies or shelved by utilities in the past year-and-a-half, according to National Energy Technology Laboratory, an arm of the U.S. Energy Department.
The unknown costs of mitigating CO2 when and if a national carbon cap-and-trade system is established, and the growing public awareness of climate change and CO2 emissions from coal power plants, played a part in most of the shelved projects, including the reduction to three from 11 coal units as part of the buyout of the former TXU Corp in Texas, a review of the projects by the Kansas governor's office shows.
Joe Lucas, executive director of the pro-coal lobby Americans for Balanced Energy Choices (ABEC), called the Kansas decision "short-sighted."
He said the state failed to give enough credence to advantages of coal as a domestic fuel that is cheap and abundant and won't fluctuate wildly in price or supply if global tensions are sparked a half a world away.
Lucas said the long-reaching impact of the Kansas decision may be diminished because Bremby went against his own staff's recommendation. Even with the Supreme Court decision, new coal-fired projects can prevail in lawsuits expected after many state-level decisions, he said.
The developer of the rejected Kansas plant is planning an appeal, as are some Kansas lawmakers.
The states where projects have been shelved are Texas, Florida, North Carolina, Delaware, Kentucky, Illinois, Oklahoma, Iowa, North Dakota, Idaho and Arizona, according to a list compiled by the Kansas governor's office, using a federal government study.
© Reuters2007All rights reserved