Military leads fight against climate change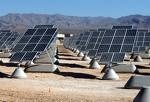 The U.S. military, the government's largest fuel buyer, is leading the fight against climate change by investing in the "Great Green Fleet" and other ways of cutting dependence on oil and coal, according to a Pew Charitable Trusts report released on Tuesday.

"They're not having long and protracted debates about whether or not we can afford it ... they are marching" into investments in everything from electric vehicles to forming strike groups that run on alternative fuels, said Phyllis Cuttino, director of Pew Environment Group's Global Warming Campaign.

The report, "Re-energizing America's Defense," says the military has found that climate change may lead to domestic and international instability by threatening water and food supplies. In addition, stronger storms caused by emissions could increase the need for humanitarian missions by the military both at home and abroad, which could stretch resources.
The U.S. military's Quadrennial Defense Review, an assessment of the international security environment released in February, said climate change may hasten instability and conflicts placing burdens on militaries around the world.
In addition, for every $10 that the price of oil rises, Department of Defense costs increase an additional $1.3 billion a year on average, the Pew report said.
The military spent about $20 billion on fossil fuel energy in 2008, and the report said internal Department of Defense research documents much larger costs for fuel brought to combat zones such as Iraq. Protecting fuel supply lines in war zones also increases the risk of attacks on soldiers.
To respond, every branch of the U.S. military has launched programs to lessen the carbon bootprint and to cut dependence on fossil fuels.
The Army, for example, is building a fleet of 4,000 electric vehicles during the next three years, which is expected to cut demand for liquid motor fuels by 11 million gallons and cut emissions.
The Navy hopes to complete its Great Green Fleet by 2016, a strike group of nuclear-powered ships, surface units fired by hyrid-electric systems, and aircraft powered by biofuels.
The Air Force, the military's largest energy user, is leading all federal entities win clean power purchasing, with 37 bases meeting a portion of their power demand with electricity from renewable sources such as solar and wind.
Article continues: http://www.reuters.com/article/idUSTRE63K5C020100421