U.S. Wind Industry Poised for a Steep Decline?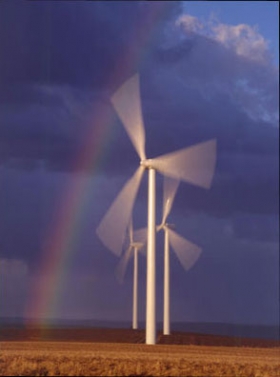 As of the summer of 2010, the landscape for the wind industry has changed dramatically from last year, when the U.S. set a record by installing over 10 GW in a single year and claiming the title of the world's top wind power producer for the second year in a row.
According to recent statistics provided by the American Wind Energy Association (AWEA), the amount of new wind power capacity installed in the first half of this year only adds up to 71 percent of what was installed during the same time period in 2009. Only two new manufacturing plants have been built, factories key to the nation's economic revival. Prior to 2005, the U.S. imported more than 70 percent of major wind turbine components for domestic wind projects. Today, the share of domestically manufactured wind turbine components has grown to more than half. Despite the growth in the domestic supply chain, considerable components going into wind turbines being installed in the U.S. are imported, particularly high value parts that comprise the gearbox and generators. The majority of steel castings are also coming from overseas.
Without federal support, China will certainly blow past the U.S. on the wind energy front, and the promise of large numbers of green jobs that the Obama Administration has been touting will never materialize. In the second quarter of 2010, China's investments in wind power was more than double that of the U.S., a harbinger of things to come. The centerpiece of the recovery for the domestic wind industry in 2009 was a provision in the stimulus legislation allowing wind farm developers to receive a direct payment from the U.S. Treasury, rather than the previously existing PTC. The large investors with big tax appetites were often many of the same financial powerhouses who got in trouble, many embroiled in scandal; others just no longer had the need for large amounts of tax credits due to poor financial showings.
Under this new provision, the Treasury provided more than $1.5 billion in 2009 in crucial capital to at least 37 different wind projects, using large and small turbines, powering the equivalent of 800,000 homes and providing a lifeline for the industry. Even more importantly, 40,000 jobs were saved.
Continue reading article here: http://www.matternetwork.com/2010/9/us-wind-industry-poised-steep.cfm