Dead Man Swimming? UK Crematorium to Heat Local Swimming Pool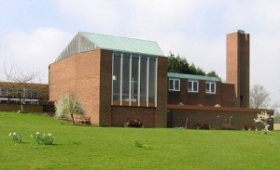 As municipalities ponder how they can stretch tight budgets as well as do their part to address growing concern over climate change risks, one English town's council has come up with a creative, perhaps peculiar, solution.
Redditch is about a 2 hour drive northwest of London. At one time, the borough of 80,000 people was the 19th century global center for the fishing tackle and needle industries. By the 1960s Redditch became a model of urban planning. Now like many cities around the world, the town's leaders face fiscal challenges, and has suggested what some may think is a macabre way to heat a swimming pool. If implemented, the plan could save the town upfront costs of almost US$100,000 (£61,000).
The Redditch Council wants to warm its Abbey Stadium Sports Centre, including its swimming pool, with renewable energy from its neighboring crematorium. By the transfer of heat from the crematorium's incinerators to a system that would warm the sports and leisure facility, the town estimates that it could not only conserve energy, but save about UK£14,000 (about US$23,000). The cost would be about £39,000, so we are talking about a quick return on investment. A conventional heating system, meanwhile, would set Redditch back over £100,000 (US$160,000).
Details of the plan have not been released, nor is it clear whether the heating pipes would be six feet under the Abbey Stadium sports center. Judging by the facility's Facebook page, chances are that the new heating scheme would not affect its operations: children's gymnastics, boxfit classes, and advanced swimming lessons would continue as planned. Nevertheless, the suggestion, about which the council will hold briefings next week with the public, religious groups, and funeral directors, is a serious topic among the town's leadership.
Article continues: http://www.triplepundit.com/2011/01/crematorium-swimming-pool/
Image: Triple Pundit