Canada-U.S. pipe would cut Mideast oil imports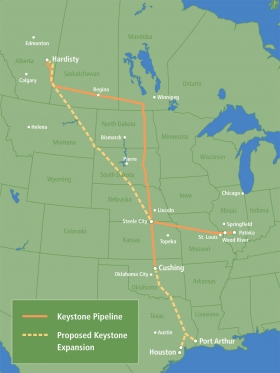 A proposed pipeline from Canada's oil sands to refineries along the Gulf of Mexico would help "essentially eliminate" U.S. oil imports from the Middle East in a decade or two, according to a new study commissioned by the Department of Energy.
Oil deliveries from the $7 billion pipeline, combined with a projected drop in U.S. fuel demand, would potentially turn the United States into a net exporter of products like gasoline, jet fuel and diesel, said the report, called "Keystone XL Assessment."
The Obama administration is divided over Keystone XL, a project that could ease reliance on oil from politically unstable regions, but boost dependence on Canadian oil sands, a crude that many environmental groups oppose.
The State Department, which is determining whether the pipeline would be necessary to improve U.S. energy security, recently put the report by energy consultancy EnSys on its website. .
The department says it is also considering input from the public and agencies as it decides whether to press ahead with the project.
The Environmental Protection Agency is worried about greenhouse gas emissions from production of Alberta's tar sands, and also has expressed concern the oil bounty could hurt efforts to produce more-efficient cars and electric vehicles.
Map shows the Keystone Pipeline, and in dotted lines the proposed expansion. Credit:  US Department of State
Article continues: http://www.reuters.com/article/2011/02/02/us-pipeline-keystone-middleeast-idUSTRE7110UE20110202