Biofuels in Europe for Airlines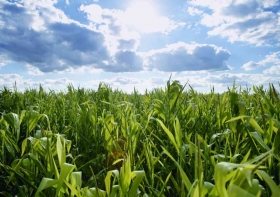 European airlines, biofuel producers and the European Commission signed an agreement on June 22 to produce two million tonnes of biofuel for aviation by 2020 even as debate rages over how green such fuels actually are. Airlines are keen to use biofuels as a way of cutting down on pollution from jet fuel but the use of food crops, such as palm oil, in their production has come under fire for taking land that could be used to grow food to feed people. A report by 10 international agencies including the World Bank and World Trade Organization earlier this month said governments should scrap policies to support biofuels, because they are forcing up global food prices. Almost anything done takes from the left pocket and pots it in the right pocket; food or fuel in this case. Biofuel is a type of fuel which is in some way derived from biomass. The term covers solid biomass, liquid fuels and various biogases. Biofuels are gaining increased public and scientific attention, driven by factors such as oil price spikes, the need for increased energy security, concern over greenhouse gas emissions from fossil fuels, and government subsidies.
Involved in the project signed June 22 are plan emaker Airbus, airlines Air France-KLM , British Airways and Lufthansa and biofuel producers including Neste Oil.
Aware of the debate surrounding first-generation biofuels, participants at the Paris air show were keen to show a focus on what they feel are more sustainable crops.
Lufthansa says jatropha is its crop of choice and plans to trial a biofuel mix on flights between Frankfurt and Hamburg for six months once certification has been received. In 2007 Goldman Sachs cited Jatropha curcas as one of the best candidates for future biodiesel production. It is resistant to drought and pests, and produces seeds containing 27-40% oil. Jatropha is not considered a food supply plant.
Under a deal with Neste, the mix it uses can be produced from palm oil but biofuels director Joachim Buse told Reuters there was a process to replace palm oil with other sources.
US firm Honeywell, which used biofuel produced by its UOP unit to fly a business jet from North America to Europe, said it uses camelina. The US State of Montana has recently been growing more and more camelina for its potential as a biofuel and bio-lubricant. Plant scientists at the University of Idaho and other institutions study this emerging biodiesel.
Studies have shown camelina-based jet fuel to reduce carbon emissions from jets by about 80%. The United States Navy chose camelina as the feedstock for their first test of aviation biofuel.
However, campaigners from Friends of the Earth say that camelina still competes with food crops and that it is especially concerned by jathropha driving land-grabbing in Africa and India, especially given the amounts of fuel required by the aviation industry.
British Airways, meanwhile, is looking at deriving fuel from waste and hopes to power its fleet using the fuel from 2015.
Bill Gates-backed Sapphire Energy is focusing on using algae to create biofuel, which it says does not require arable land or potable water thus avoiding the fresh water resources or lands needed to grow food crops.
As it is only in the early stage of development, algae is unlikely to make any contribution towards the 2020 targets signed on Wednesday.
For further information: http://www.euractiv.com/en/climate-environment/airlines-eu-biofuels-pact-cut-pollution-news-505881
Photo: http://www.fuelwatchdog.co.uk/images/biofuels.jpg