World's Oldest Car Powered by Steam Heads to Auction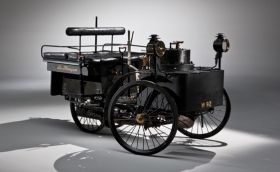 We can probably debate what counts as the world's first real automobile, since the De Dion Bouton Et Trepardoux Dos-A-Dos Steam Runabout is more of a train without tracks than an actual car. This over-named vehicle is up for auction, and ran not on gasoline that would come to define the car…but on steam power.
The Dos-A-Dos Steam Runabout was built in 1884 by the combined efforts of Comte de Dion, Georges Bouton, and Charles-Armand Trepardoux. Dion found Bouton and Trepardoux getting paid a pittance to build small children's toys. He commissioned them to build a full-size engine upon which one could ride. Their first effort was prone to catching fire, but in 1884 they came up with this contraption, named La Marquise.
For further information: http://www.matternetwork.com/2011/10/worlds-oldest-car-powered-by.cfm