Make Earth Day count and start doing things to help all year long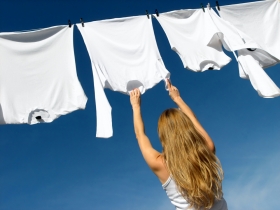 Earth Day is a great opportunity to appreciate the planet that provides for us all year long. Sierra Club Green Home has seven simple things you can do for the environment this weekend, and hopefully you will incorporate them into your daily life as well!
1) Attend a clean-up in your community. This weekend there are clean-ups going on all around the country. A simple Web search can help you find one in your city or town. If by chance you cannot find one, don't hesitate to pick up that stray piece of trash that might be blowing down the road.
2) Conserve water. We use a good amount of water through simple everyday tasks such as brushing our teeth, taking showers, and washing the dishes. There is also the amount of water used to produce our food and other products. Try to track how much water you use in one day, and look for areas where you can reduce your water footprint.
3) Green your transportation. Do you live in a community where you could walk or ride your bike for some of your commuting and errands? This weekend, try at least once to make use your bike, your feet, or public transit. In fact, you can earn some bucks by skipping driving some days and renting your car out using GetAround or RelayRides.
4) Hang your laundry out to dry. While washing machines and dryers are now being manufactured to conserve energy, they are still to blame for high energy bills. Hanging your laundry on the line as opposed to tossing it in the dryer can conserve a huge amount of energy. Besides, there is nothing like the smell of freshly laundered sheets that have been hanging on the line for the day.
Hanging Laundry via Shutterstock.
Article continues at ENN Affiliate Sierra Club Green Home.