World's first community-owned tidal turbine to power up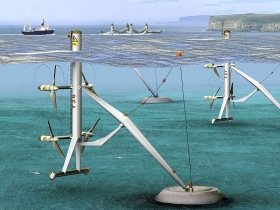 The world's first community-owned tidal turbine will be made and deployed in Scotland, after a fabrication contract between Scottish firms Steel Engineering and Nova Innovation was announced by First Minister Alex Salmond. During a visit that formed part of the Scottish Government's Summer Cabinet programme in Renfrew, the First Minister confirmed that the two companies had reached agreement to manufacture a tidal turbine that will be connected to the grid and provide electricity to people in one of the most remote parts of Scotland.
The Nova-30 device, to be used by the North Yell community in Shetland to power a local ice plant and industrial estate, will be fabricated for Leith-based Nova Innovation Ltd in Steel Engineering's newly expanded Renfrew facility. The new premises, which will help the firm meet its ambition to create 120 new jobs, were officially opened by the First Minister today.
During his visit to Steel Engineering, the First Minister also opened The Renewable Energy Skills Training Academy (TRESTA), a cutting-edge centre run by Steel Engineering with the help of our agencies that will train 60 apprentices a year in the skills required to play their part in Scotland's renewables revolution.
Article continues at Tidal Turbine.
Turbine image via Wikipedia