iWind Power?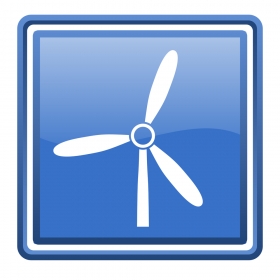 Apple may be the world's valuable company and brand, but to sustainability and corporate social responsibility advocates, the company is often a pariah. But a patent application the company filed last year, first revealed on the Apple Insider blog, shows that some of that cash on which Apple is sitting could be invested in a new clean energy technology.
Filed last year, the application describes a set of rotating blades that converts rotational energy from a wind turbine into heat that is then stored in a vessel containing "low heat capacity fluid." The system would then selectively transfer the heat as needed from that low heat capacity fluid to a "working fluid" and hence would generate electricity. Heat, not rotational energy, would would be the result of the turbine's blades rotating; and even more exciting, energy could be used when needed, as when there is little or no wind.
The bugaboo of conventional wind power turbines is the inconsistent amount of energy generated due to the fluctuations in the speed of wind. There is not often enough wind during peak demand, and conversely turbines could produce excessive amounts of energy during periods of low demand. Plus the pesky issue of energy storage hinders the ability of wind power to contribute effectively to local grid systems. So according to the lead author of the patent application, Jean Lee, "what is needed is a mechanism for mitigating variability and/or intermittency associated with the production of electricity from wind energy."
Wind Power APP tile image via Shutterstock.
Read more at ENN Affiliate, TriplePundit.