LED Criteria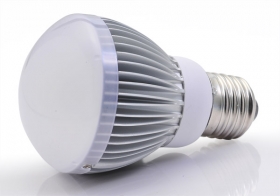 A light-emitting diode (LED) is an efficient semiconductor light source. LEDs are used as indicator lamps in many devices and are increasingly used for other lighting. It is not just enough to be energy efficient; LED lighting also must be consistently high quality and reliable to win over consumers. That message, from the California Lighting Technology Center (CLTC) at the University of California, Davis, helped prompt the California Energy Commission to include quality criteria for LED replacement lamps in its first-in-the-nation energy efficiency directive on Dec. 12, 2012. Now, the CLTC is urging the U.S. Environmental Protection Agency's ENERGY STAR program to create similar criteria for LEDs on a national scale.
LEDs present many advantages over incandescent light sources including lower energy consumption, longer lifetime, improved physical robustness, smaller size, and faster switching. LEDs powerful enough for room lighting are relatively expensive and require more precise current and heat management than compact fluorescent lamp sources of comparable output.

Solid-state devices such as LEDs are subject to very limited wear and tear if operated at low currents and at low temperatures. Many of the LEDs made in the 1970s and 1980s are still in service today. Typical lifetimes quoted are 25,000 to 100,000 hours, but heat and current settings can extend or shorten this time significantly.

"This needs to happen as soon as possible, to guide manufacturers to higher quality products, before the market is flooded with products that fall short of consumer expectations," wrote the CLTC's Michael Siminovitch, Konstantinos Papamichael and James Benya, in a recent letter to the EPA's ENERGY STAR program, which is reviewing its specification for LED lamps.

Other lighting industry leaders joined CLTC in filing separate comments in support of higher color rendering criteria for LED lamps. They include: the International Association of Lighting Designers, Northeast Utilities Companies and LED manufacturer Soraa.

The move comes as LED lighting is entering the residential market in earnest and consumers are faced with products of varying quality. 

The CLTC letter points to compact fluorescent lamps as a cautionary tale. Since 1999, when ENERGY STAR first established criteria for CFLs, the requirements have focused on energy efficiency, while utilities have focused on lower costs. The result — energy-efficient, low-cost products that often compromised color quality — failed to impress consumers. Less than 9 percent of American homes have reached a market saturation rate for CFLs, according to ENERGY STAR studies.

"LEDs now present us with a second chance to transform the lighting market," the CLTC leaders wrote in their letter. "The energy savings opportunity is larger than with CFLs, and LEDs have the potential to deliver lighting quality that comes much closer to incandescent light sources. We urge ENERGY STAR to establish high standards for color rendering and color consistency in LED replacement lamps."

"For LEDs to really gain long-term acceptance, they have to deliver the kind of color quality and reliability that consumers have come to expect from incandescents," said Siminovitch. "A quality specification will go a long way toward helping California — and the nation — transition to more energy-efficient lighting."

For further information see Criteria.

LED Bulb via Wikipedia.