Renault offers free charging for EV's in France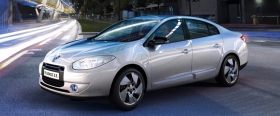 In what seems to be coming something of a common occurrence in the electric vehicle industry, Renault has now announced plans to offer free charging facilities to any electric vehicle user across its 372 Renault dealerships in France. Initially you might automatically assume that this offer of one hours free charging per day across 875 fast charge stations in France would be limited to Renault users, but this is not the case. This offer is open to all electric vehicle users as long as they have a cable which fits a type III connector.
Electric vehicle charging stations are certainly a hot topic at the moment with more and more companies opening up their networks to outside parties. It is interesting to see that Renault, which has recently released a number of EV models, is looking to grab the headlines.
How quickly can these stations recharge your EV?
Renault has confirmed that these fast charge stations will be able to charge your batteries to 80% capacity in just one hour. When you bear in mind the number of Renault dealerships across France and the ever-growing number of electric vehicle charging stations, this is certainly a very interesting step forward and one which could prompt a similar response from other car dealerships.
Quote from ElectricForum.com : "While Renault was not perhaps the first company to grab the headlines in the electric vehicle market, there is no doubt that the company is perhaps more committed than any of the other major car manufacturers across Europe, North America and Asia. This is a company which seems to have bet the house on hybrid and electric vehicles and in all honesty, if current news flow is anything to go by, this seems to have been a good bet."
This revelation also perfectly illustrates the improved EV charging technology and the fact that these fast charging stations can recharge batteries up to 80% capacity in just 60 minutes. Slowly but surely journey capacity issues are starting to disappear in the minds of EV enthusiasts and we should see more drivers of traditional vehicles looking towards the EV market in the short to medium term.
Renault Fluence Z.E. image courtesy Renault.
Read more at ENN Affiliate, ElectricForum.