Electric vehicle market predictions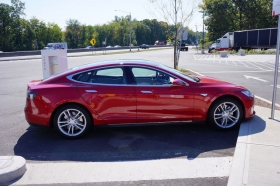 While there is no doubt that the electric vehicle market has performed admirably during 2013, what does the future hold for the electric vehicle industry in 2014? As we come to the end of 2013 all eyes are now moving towards next year when many experts believe we will see developments which could change the whole landscape of the electric vehicle market. There are a number of initiatives under the surface, perhaps not grabbing the headlines as you might expect, which could come into play in 2014 and indeed we will be one year nearer an affordable electric vehicle priced around $30,000.
There are very few people who would have guessed that 2013 would be so successful for the worldwide electric vehicle market especially as the year began on a fairly downward note. Not only did we have a number of setbacks for the industry, with regards to government investments, but the spat between Tesla and the New York Times did nobody any favours.
While the lithium ion battery has been the base upon which the electric vehicle market of today was developed, many experts believe there will be major changes in 2014 and beyond. The general consensus seems to be that lithium ion battery technology has been pushed towards its limits and we will see a whole new range of battery technologies released to the marketplace in the years ahead.
Tesla EV at Supercharger image credit Roger Greenway, ENN.
Read more at ENN Affiliate ElectricForum.