Bio-fuel from Whisky distilling in Scotland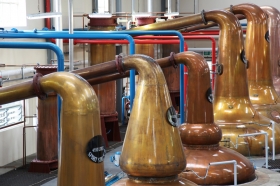 Edinburgh-based biofuel company Celtic Renewables has signed an agreement with Europe's foremost biotechnology pilot facility to undergo next-stage testing of its process to turn whisky by-products into biofuel that can power current vehicles.
The partnership, which will allow the company to develop its technology at Bio Base Europe Pilot Plant (BBEPP) in Ghent, has been made possible by second round funding worth €1.5million, including more than €1million from the UK Government, to help meet its ambition of growing a new €125 million-a-year industry in the UK.
Celtic Renewables, a spin-out company from the Biofuel Research Centre at Edinburgh Napier University, has already proved the concept of producing biobutanol from draff – the sugar-rich kernels of barley which are soaked in water to facilitate the fermentation process necessary for whisky production – and pot ale, the yeasty liquid that is heating during distillation.
It will spend the next few months seeking to replicate work done in its Scottish laboratory at an industrial scale. Celtic Renewables is the first company to trial biobutanol technology at the Belgian demonstrator pilot facility and also the first Scottish company to sign a partnership with BBEPP.
Established by the EU to enable the development of a sustainable biobased economy, BBEPP was founded to support the advancement of sustainable biobased processes that cut reliance on non-replaceable fossil fuels.
The feasibility of Celtic Renewables' innovative process was first evaluated at BBEPP with the support of a Bio Base NWE Innovation Coupon worth €10.000. Celtic Renewables were informed about BBEPP by NNFCC, a bioeconomy consultancy located in the UK and partner of the Bio Base NWE project.
This project supports the development of the bio-based economy in North West Europe (NWE) with the aim to stimulate the overall European economy and the creation of jobs. The partnership between Celtic Renewables and Bio Base Europe Pilot Plant is one of many successful examples that proof the setup of this project pays off.
Scottish distillery image via Shutterstock.
Read more at ENN Affiliate, ClickGreen.