Turbine Breaks World Record for Wind Power Generated in Just One Day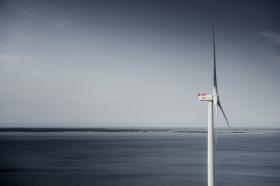 A 722-foot tall, 9-megawatt wind turbine operating at an offshore testing site near Østerild, Denmark has set a new world record for wind electricity generation. The V164 turbine, built by Danish energy company MHI Vestas, produced 216,000 kilowatt-hours of electricity in just 24 hours, enough to power 240 U.S. homes for a month.
The record was broken in early December, but just recently reported. The turbine has 38-ton blades that measure 263 feet in length. It is built so that 80 percent of its structure can be recycled at the end of its 25-year life.
Continue reading at Yale Environment 360
Image: The new V164 turbine near Østerild, Denmark
Image via MHI VESTAS