Next-gen solar cells could be improved by atomic-scale redesign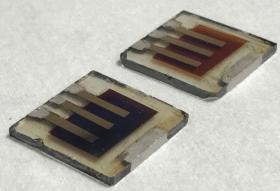 Researchers have uncovered the exact mechanism that causes new solar cells to break down in air, paving the way for a solution.
Solar cells harness energy from the Sun and provide an alternative to non-renewable energy sources like fossil fuels. However, they face challenges from costly manufacturing processes and poor efficiency - the amount of sunlight converted to useable energy.
Light-absorbing materials called organic lead halide perovskites are used in a new type of solar cells that have shown great promise, as they are more flexible and cheaper to manufacture than traditional solar cells constructed of silicon.
However, perovskite cells degrade rapidly in natural conditions, greatly decreasing their performance in a matter of days. This is one reason they are not currently widely used.
Read more at Imperial College London
Image: Fresh (L) and degraded (R) solar cells. (Credits: Imperial College London)