Researchers produce new biodiesel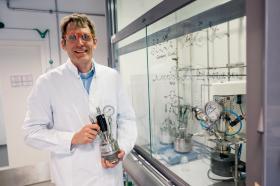 In the EU, automotive diesel contains only seven per cent biodiesel. Conventional diesel engines cannot sustain more than that. Until now.
Scientists from the universities of Kaiserslautern, Bochum and Rostock have developed a new method for producing biodiesel. The researchers chemically treated a mixture of plant oils to generate, at zero energy cost, a biofuel that can be added undiluted in modern diesel engines. Their trick: Use bioethylene to cleave the commercial rapeseed oil esters. Currently, European biofuel companies mainly produce biodiesel from rapeseed oil and methanol.
The team of Prof Dr Lukas Gooßen, a member of the cluster of excellence at RUB, published the findings in the prestigious journal "Science Advances". Gooßen was since 2016 at the University of Kaiserslautern.
Challenging target
By the year 2020, the diesel sold in the EU should contain up to ten per cent biofuel, a challenging target. Biodiesel consists of long, uniform hydrocarbon compounds with different properties to diesel obtained from mineral oil. For example, it vaporises at higher temperatures, which can lead to problems with electronic fuel injectors and particulate filters.
Continue reading at Ruhr University Bochum
Image Credits: Ruhr University Bochum, Kramer