Solving a sweet problem for renewable biofuels and chemicals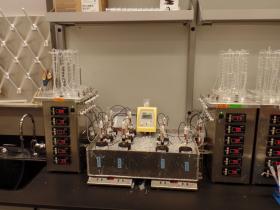 ASU scientists harness the trial-and-error power of evolution to coax nature into revealing answer to energy challenge
Whether or not society shakes its addiction to oil and gasoline will depend on a number of profound environmental, geopolitical and societal factors.
But with current oil prices hovering around $50 dollars a barrel, it won't likely be anytime soon.
Despite several major national research initiatives, no one has been able to come up with the breakthrough renewable biofuel technology that would lead to a cheaper alternative to gasoline.
That research challenge led ASU scientists Reed Cartwright and Xuan Wang to enter the fray, teaming up to try to break through the innovation bottleneck for the renewable bioproduction of fuels and chemicals.
"My lab has been very interested in converting biomass such as agricultural wastes and even carbon dioxide into useful and renewable bio-based products," said Wang
(pictured above, right), an assistant professor in the School of Life Sciences. "As a microbiologist, I'm interested in manipulating microbes as biocatalysts to do a better job."
Read more at Arizona State University
Image Credits: Arizona State University