Jackdaws flap their wings to save energy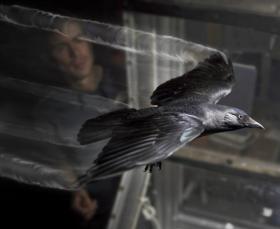 For the first time, researchers have observed that birds that fly actively and flap their wings save energy. Biologists at Lund University in Sweden have now shown that jackdaws minimise their energy consumption when they lift off and fly, because the feathers on their wing tips create several small vortices instead of a single large one. The discovery could potentially be applied within the aeronautical industry.
Previously, multiple wingtip vortices have only been associated with large gliders such as eagles, vultures and storks. Now biologists Anders Hedenström, Christoffer Johansson and Marco Klein Heerenbrink of the Faculty of Science at Lund University in Sweden have discovered the same phenomenon in jackdaws, which flap their wings when they lift off and fly.
The experiments were conducted in a wind tunnel at the Department of Biology in Lund. The jackdaw lifted off and flew through a thin mist that reflects laser light, which is captured by advanced cameras. By using multiple images from several cameras, the researchers were able to build up three-dimensional images of the air flow around the jackdaw's wing tips.
Continue reading at Lund University
Photo by Marco Klein Heerenbrink