New biomass plant to cut Simon Fraser University's greenhouse gases by two-thirds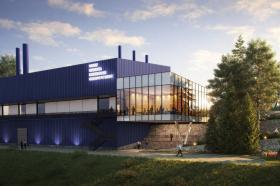 A new project at Simon Fraser University (SFU) will soon divert wood waste from the landfill and help reduce greenhouse gasses at the University.
SFU and SFU Community Trust are collaborating with Corix Multi-Utility Services Inc., on a $33-million community-based biomass project called the Burnaby Mountain District Energy Utility (BMDEU).
The project, approved by the British Columbia Utilities Commission (BCUC) involves a high-efficiency heating plant using biomass–urban wood waste–as the primary fuel source.
"The BMDEU is the fulfillment of a vision for a high-efficiency biomass heating plant that began with UniverCity's original Neighbourhood Utility Service in 2011, providing reliable, cost-effective, low-carbon thermal energy service to UniverCity residents on Burnaby Mountain," says Gordon Harris, president and CEO of SFU Community Trust.
Continue reading at Simon Fraser University.
Photo via Simon Fraser University.