Impact of Amazonian Hydropower is 'Significantly Underestimated', Study Finds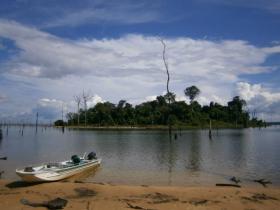 The environmental impact of hydropower generation in the Amazon may be greater than predicted, according to new University of Stirling research.
The study suggests that estimates of biodiversity and carbon losses associated with tropical hydropower may be higher than estimated as they fail to consider the full impact of forest fragmentation.
Led by Dr Isabel Jones, of Biological and Environmental Sciences, the research studied lianas – long-stemmed woody vines, enshrined in popular culture as Tarzan's favourite mode of transport – within the Balbina hydroelectric dam in Brazil.
Lianas can kill trees or prevent them from growing as they both compete for vital resources such as water and light. In some areas, lianas outnumber trees - causing the growth of low biomass liana-dominated forests. Such a transformation results in sources of food for animals to change or disappear completely, while the ability of the forest to uptake and store carbon – vital for maintaining the global carbon balance – is reduced.
Read more at University of Stirling
Image: This is a rainforest island in the Amazon. (Credit: University of Stirling)