We Should Use Central Pressure Deficit, Not Wind Speed, To Predict Hurricane Damage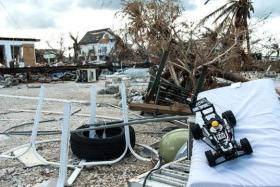 The system for categorizing hurricanes accounts only for peak wind speeds, but research published in Nature Communications explains why central pressure deficit is a better indicator of economic damage from storms in the United States.
"Sandy is the classic example. It was a very big storm, but in terms of maximum wind speed it was arguably not a hurricane," said Dan Chavas, an assistant professor of atmospheric science at Purdue University who led the study. "If you looked at the central pressure deficit, you would have expected it to cause a lot of damage. But if you used maximum wind speed, as people usually do, you wouldn't expect it to do the damage that it did."
Central pressure deficit refers to the difference in pressure between the center of the storm and outside it. Pressure and wind speed have been used interchangeably to estimate potential damage from hurricanes for years, but the relationship between them has been a long-standing riddle in tropical meteorology.
Chavas and his colleagues have defined a theory that solves that riddle. Previous work has observed that central pressure deficit depends on maximum wind speed, storm size, and latitude, but Chavas' team has determined why that is.
Read more at Purdue University
Image: Damage to homes in Key West from Hurricane Irma. (Credit: Photo by Dan Chavas)