Eruption Clues: UNH Researchers Create Snapshot of Volcano Plumbing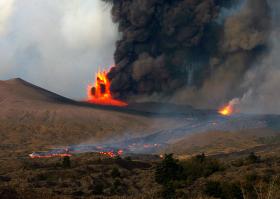 Much like a forensic team recreates a scene to determine how a crime was committed, researchers at the University of New Hampshire are using scientific sleuthing to better understand the journey of magma, or molten rock, in one of Europe's largest and most active volcanos, Mount Etna. Researchers applied several techniques, in a new way, to create a more accurate picture of the volcano's plumbing system and how quickly the magma rises to the top to cause an eruption. Their findings contribute to our understanding of how and when volcanoes erupt.
In their study, recently published in the journal Geochemical Perspective Letters, the UNH team set out to determine if the magma lingers below in pockets of the volcano or if it pushes up all at once. To put the pieces of the puzzle together, they combined three approaches previously not used together to reconstruct the ancient magma plumbing system by looking for chemical signatures in lava rock collected from flows on the surface. They looked at the minerals and the trace elements in the rocks because the tracers can help identify where the minerals have been by how they crystallized.
"As magma moves up through Earth's crust beneath the volcano, it starts to crystallize," says Sarah Miller, of UNH's department of Earth sciences and lead author of the study. "Some elements move rapidly and some more slowly, so there is a chemical record of events in those crystals that can help us determine their journey."
Read more at University of New Hampshire
Photo credit: U.S. Navy, Photographer's Mate 3rd Class Richard W. Williams via Wikimedia Commons