Alpine Rail Tunnel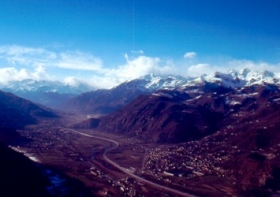 Nimby (Not in my back yard) syndrome has struck again. It is a project of extravagant dimensions and it has been blocked for almost 20 years by a protest of epic tenacity and occasional violence. But this week, Italian plans for a 56-kilometre rail link under the Alps, four miles longer than the Channel tunnel and linking Turin to Lyons, will move into a new and possibly decisive phase. Officials are due to expropriate a stretch of sloping grassland near the Alpine village of Chiomonte, outside Turin, where work will begin on Italy's side of the border. The first planned excavation is of an access tunnel to allow geologists to test conditions. So why the protest and outcry?
When the site was fenced off last summer, almost 400 people were injured in the resulting clashes between demonstrators and police. Twenty-six people accused of taking part in the violence have since been jailed. The first demonstration against the high-speed train route was in 1995. The resistance has continued ever since and, in February, almost claimed a life when an activist who climbed an electricity pylon fell after being severely burned!
In July 2011 around two hundred people, mainly police officers, were injured as officers clashed with masked protesters at a rally against a high-speed rail link in northern Italy.
Clashes between protesters and police left at least 188 officers and about a dozen demonstrators' hurt, said officials, after a small group stormed a tunnel which was part of the work site at Chiomonte, west of Turin.
Taken aback by the intensity of the protests, successive governments in Rome have dallied. But Mario Monti's non-party government appears determined. It came into office in November charged with reanimating Italy's moribund economy and, said Mario Virano, special commissioner for the tunnel, "infrastructure is considered as a mechanism for the creation of economic growth".
Virano is charged with persuading local people and their representatives of TAV's merits. Last month, he was summoned to Rome and was astonished to find on the other side of the table, in addition to Monti, no fewer than four members of his cabinet. According to Virano, at the end of a meeting lasting several hours, Monti declared: "We want to go ahead with [the TAV project], not because we inherited it but because we believe in it."
So why does the scheme arouse such passionate feelings? All Alpine landscapes have a certain grandeur. But while the Susa valley contains some important historical monuments and archaeological remains, it is not the prettiest in the Alps.
Apart from the existing train line, the route is dotted with quarries and factories. The land on which last year's pitched battle was fought lies in the shadow of an array of monstrous concrete pillars that hold up part of the A32 motorway, built in the 1980s.
"That is the real abomination. Yet it was put up without any resistance," said Renzo Pinard, the mayor of Chiomonte and one of only two local authority chiefs along the proposed TAV route who back it.
Environmentalists have said that the mountains through which the tunnel will be dug contain deposits of uranium and asbestos. Tunnel excavation may cause these deposits to be exposed and cause environmental harm. The hazards of digging out the minerals could be eliminated by the use of powerful extractor fans or other means.
This is an odd conflict, in which the normal roles are reversed: it is the proponents of the scheme who are the dreamers (or visionaries, depending on your point of view) and do not care of the costs. And it is the opponents, including a fair share of anarchists and environmentalists, who argue for financial necessity and fiscal prudence.
A document produced by the government in support of the project states that it will slash the journey time between Paris and Milan from seven hours to four, thus reducing costs and eliminating truck traffic.
Mario Virano, special commissioner for the tunnel, said that the outcome, using the European Union's central macro-economic scenario, was environmentally "very positive" and financially "slightly positive".
Virano points to the experience of Switzerland, which doubled its rail system traffic by excavating tunnels through the Alps. More importantly perhaps, TAV is fundamental to a vision of Europe conceived in Brussels.

Engineering, in other words, can make dreams come true. And in this case, it may have to. Much of the work on the French side has already been done and, were Italy to pull out, say officials, it would face a huge bill for damages of at least €1billion.
The environmental impact is not clearly large but many people feel it is very important and protest. So who is ultimately right?
Article continues at EurActiv
Susa Valley image via Wikipedia