In Concerns over Weight, Perception becomes Reality!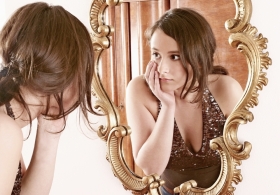 Thin, in-shape people are paraded around us constantly in our daily lives through billboards and other media. The concept of beauty has become centered around being thin. Yet in our modern age, there are greater percentages of people throughout the world who are overweight or obese. Trends during our teenage years has a great effect on our body sizes throughout life. A new study from researchers in Norway has found that excess weight is not only caused by over-eating and lack of exercise, but it is a product of our own perception. Teens, even normal-size teens, who feel fat are more likely to grow up to be fat.
To reach this conclusion, the researchers used 1995-1997 survey data from nearly 1,200 normal-weight teenagers of both sexes. A follow up survey was then conducted in 2006-2008 when the kids had grown up to between 24 and 30 years old. They found that half of the individuals retained a normal weight. For the other half who were overweight, they found the following conclusions.
59 percent of girls who had felt fat as teens became overweight in adulthood according to their body mass index (BMI).
If measured by waist size, than 78 percent of teens who felt fat grew up to be overweight.
Only 31 percent of girls who did not consider themselves fat grew up to be overweight.
There may be several reasons for this phenomenon that can be speculated. One explanation may be related to psychosocial stress (the stress of having or not having an ideal body shape), and the stress causes weight gain.
Another reason is that people who feel fat may start to skip meals. Studies have found that skipping breakfast can lead to obesity.
Another possible explanation is that people who feel fat will follow a diet that is not natural to their bodies. If a diet is counterproductive, the body will strive to maintain the weight had before starting the diet.
When conducting this study the researchers knew that this "perception-becomes-reality" phenomenon would be more prevalent in girls than boys. In the 1995-1997 study, 22 percent of normal-weight girls reported feeling fat as compared to only 9 percent of boys. A reason for this may be the media's focus on appearance targeting girls far more than boys.
"Girls thus experience more psychosocial stress to achieve the ideal body," Koenraad Cuypers says, a researcher at the Norwegian University of Science and Technology. "Society needs to move away from a focus on weight, and instead needs to emphasize healthy eating habits, such as eating regular and varied meals and eating breakfast. Good sleep habits are also an advantage. And by reducing the amount that teens are transported to and from school and recreational activities, teens might also be able to avoid getting a 'commuter belly'," Cuypers adds.
So if feeling fat can cause one to become overweight, than the goal should be not to feel fat. In order for that to happen, there need to be social changes in which the super-thin super model is no longer held up as the ideal.
This study has been published in the Journal of Obesity
Girl looking at Mirror image via Shutterstock