Sudden Death from Heart Attacks Less Likely for Exercisers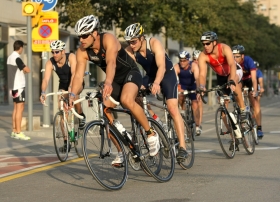 A really bad cardiac arrest can be so powerful that it results in sudden death. However, should a cardiac arrest occur during or shortly after exercise, the individual is three times more likely to survive than those who suffer a cardiac arrest that is not exercise related. This is the finding of Dr. Arend Mosterd, presented at the European Society of Cardiology Congress 2012. Physical activity, we all know, is excellent for improving cardiovascular health. However, it can also trigger acute cardiac events, which creates fear for those who are pushing themselves too hard. Dr. Mosterd's study aimed at reducing that fear. She found that while acute cardiac events can also occur during non-exercise periods, individuals are less likely to die from them while exercising.
This study used data from the Amsterdam Resuscitation Study (ARREST), which keeps a database of all resuscitation efforts in the greater Amsterdam area in the Netherlands. The data was sifted through to find incidences where emergency medical professionals had to resuscitate people who were exercising during or one hour before the attack. Between 2006 and 2009, this constituted only 5.8 percent of all out-of-hospital cardiac arrests (OHCA), 145 individuals out of a total of 2,517.
Of the exercise-related cardiac attack victims, most were biking (49 people). The next most frequent activities were tennis (22), gym workouts (16), and swimming (13). Most of the victims were older men. Only 10 of these victims were women, and just seven were 35 years or younger.
The study found that almost half of all people who suffered this traumatic event while exercising had survived (45 percent). This is a survival rate that is three times higher than those with non-exercise attacks (15 percent).
"The remarkably good survival of victims of exercise related out of hospital cardiac arrest can partially be ascribed to the fact that they are younger and more likely to suffer the arrest in a public location, leading to bystander cardiopulmonary resuscitation, often with the use of an automated external defibrillator. Taking these factors into account exercise per se also contributes to a better outcome," Dr. Mosterd explained. "More research is needed to determine why, after taking into account favourable factors such as age, location of the event and initiation of CPR, persons who exercise during or shortly before having a cardiac arrest still have a better prognosis than people who have a cardiac arrest that is unrelated to exercise."
Dr Mosterd concluded, "Prompt bystander initiation of CPR with the use of an AED is likely to be the key to improving outcome, an observation that should have direct implications for public health programmes aimed at preventing exercise related sudden death."
For more information on the European Society of Cardiology Congress 2012, click here
Cycling image via Shutterstock