Brazil forms special environmental security force to combat spike in deforestation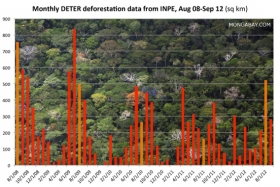 Brazil will set up a special environmental security force in an effort to stem rising deforestation in the Amazon rainforest, reports AFP. In a statement, Environment Minister Izabella Teixeira said the new body will be backed by the army, the federal police and the Brazilian Environment Institution (IBAMA). The force will be charged with permanent surveillance of the Amazon.
The new force is a response to a sharp increase in deforestation since August. Data from Brazil's National Space Research Institute, INPE, showed that deforestation in August 2012 was 220 percent higher than August 2011. September 2012 clearing was up about 11 percent relative to a year earlier.
Article continues at Rain Forest.
Figure image via Inpe.