Atlantic Cup Race Now Carbon-Neutral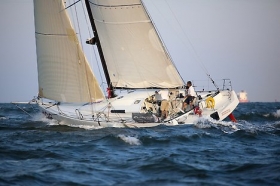 The 2013 Atlantic Cup presented by 11th Hour Racing has announced its final plans and competition field for the third annual running of the premier Class 40 sailing event in the country. The event will feature seven boats; six from the USA and one from Great Britain, with race organizers once again making a strong commitment to eco-friendly sailing. Last year, in partnership with 11th Hour Racing and Green Mountain Energy Company, the Atlantic Cup became the first carbon-neutral sailing race in the USA by offsetting an estimated 23,030 pounds (10.45 metric tons) of CO2 from entering the atmosphere. Sailors for the Sea (SfS) certified the event Gold in 2012, with SfS unveiling a new Platinum level certification in 2013 that the Atlantic Cup will strive for.
Teams will set sail from Charleston, S.C. on Saturday, May 11 at 2 p.m. EDT on a 648 nautical mile race to New York Harbor for the second leg of the competition (May 14-17), before departing on May 18 on a 231 nautical mile final leg of competition. The annual event culminates in Newport, R.I. with two days of Inshore racing (May 25 – 26). The field includes the USA's Pleiad Racing, Dragon, Gryphon Solo 2, Icarus Racing, Bodacious Dream and Lecoq Cuisine, along with Great Britain's 40 Degrees.
"After a tough winter and heavy hurricane season that affected two of the three cities we will visit, our environmental commitment has become even more relevant and we are proud to be continuing our efforts to raise awareness and demonstrate that making small changes to how we organize and run our race can make a great impact over time," said Hugh Piggin, Atlantic Cup Race Director
Additional 2013 Atlantic Cup Environmental Efforts include:
- Throughout the multi-city event the teams will use biodiesel hydro generators, solar panels and fuel cells to limit the use of fuel during the competition.
- Organizers will eliminate the use of single-use plastic bottles in their hospitality villages and teams will eliminate the use of plastic water bottles on-board their boats.
- On Thursday, May 16, a special Atlantic Cup "Living on the Edge" Eco-Evening will be held from 6 – 9 p.m. in NYC, highlighting the event's commitment to the environment.
- Extending its education outreach by partnering with the Rozalia Project for a Clean Ocean, whose mission is to find and remove marine debris, from the surface to the sea floor, through action, technology, outreach and research.
Photo of  2012 ATLANTIC CUP - GRYPHON SOLO 2 credit http://atlanticcup.org/photos/photo/?gid=&aid=22&pid=772