EU asks the U.S. to share the energy wealth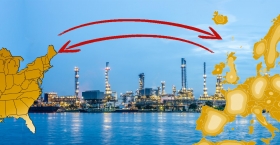 Taking note of the United States recoupment of natural gas, most specifically from shale, the EU is pressing its Washington counterparts to include energy exports in the Transatlantic Trade and Investment Partnership (TIPP) trade pact currently being negotiated. The pact will account for half of the world's economy covering goods and services to include everything from agriculture to finance.
Currently Europe obtains most of its gas from Russia who has historically kept prices high.
European negotiators are seeking relief from the U.S. and believe there is no reason for the U.S. to withhold this highly sought export. For Europe, lifting the export restrictions offers a cost effective solution for lowering prices without penetrating their own geological reserves saving social, ecological, geological, financial and governmental resources.
According to the Brookings Institute, US gas exports could amount to 6 billion cubic feet or around 170 million cubic meters per day—half of Britain's daily demand in the winter by the end of the decade.
But for the U.S. concerns are that such a deal drives prices up domestically causing lawmakers to want to continue to maintain control of its energy resources. Europe emphasizes that the goal of trade talks are to drive economic growth on both sides of the Atlantic, ultimately making business better for all.
"Because US and European companies, including energy companies, have invested heavily on both sides of the Atlantic, US and EU negotiators are essentially representing the same company interests," said Peter Chase, vice president, Europe at the US Chamber of Commerce in Brussels. "They can take a more collaborative approach."
The U.S. however, views energy resources in general as strategic assets whose control must be monitored and maintained and is more likely to integrate energy export controls more conservatively.
European refining industry has particular hopes for the trade talks where trade in refined oil products is not subject to US legal restrictions. High demand for gasoline in the United States during its summer driving season and a shortfall of diesel refineries in Europe have meant the European Union imports U.S. diesel and exports European gasoline.
In 2012, the U.S. refining industry exported 335,000 barrels per day (bpd) of diesel to the European Union and the EU refining industry exported 349,000 bpd of gasoline to the United States equating to $32 billion.
It argues that trade is under threat because of draft EU legislation to label products refined from tar sands as more polluting than from conventional crude because of the amount of energy required to separate the oil from the tar-like deposits.
Read more at EurActive.
Refinery, map of Europe and map of U.S. images via Shutterstock; merged, morphed and further developed by Robin Blackstone.