Good News for the Moluccan Woodcock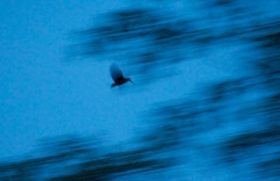 The Moluccan Woodcock, also known as Obi Woodcock, is a medium-sized forest wader. With it's long dark bill and orange buff, this elusive, rare bird is evaluated as Endangered and has been on the International Union for Conservation of Nature (IUCN) Red List of Threatened Species.
But according to new research conducted by Oxford University and Louisiana State University, the Moluccan Woodcock is 'not so endangered' after all.
Native to two remote Indonesian islands, the Moluccan Woodcock has been recorded on 51 occasions during a two-month stay by researchers on Obi Island in the Northern Moluccas of Indonesia.
Up until now, researchers believed the birds preferred mountainous areas at the center of the island. However, new research is suggesting that as many as 9,500 Moluccan Woodcocks appear to be living mainly in the lowlands.
Recording these birds was a difficult feat explains Researcher Eden Cottee-Jones. "Even when a Moluccan Woodcock would fly within camera range, the darkness and humidity in the air led to multiple technical problems with our equipment, and that was just on the days when it wasn't raining. The other challenge was that the bird spends most of its day hidden in the undergrowth so there were few opportunities to photograph it in the open."
John Mittermeier added: "The Moluccan Woodcock only appears briefly at dawn and dusk to perform territorial display flights lasting around 21 minutes in the morning and 13 minutes at night. The size of their territories, along with the speed and height of their display flights, meant we only had two to three chances daily of taking a picture, and the best spot for a view of the bird was usually in the middle of a river!"
The study reveals the birds' display behavior and population size and concludes that this 'lost species' is less endangered than expected and should be reassess as 'vulnerable'. The study is published in the Asian journal, Forktail.
Read more at the University of Oxford.
Moluccan Woodcock silhouette image credit: John Mittermeier via the University of Oxford.