Governor-elect Andrew Cuomo Outlines Environmental Agenda for New York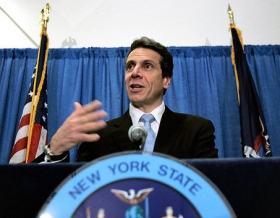 Governor-elect Andrew Cuomo released a 160-page environmental agenda for New York on Saturday, October 30, three days before he was elected to be New York's next Governor on January 1st, 2011. The document allows some insight into the vision and priorities of the next administration with regard to the environment.
One of the most significant components of the agenda is an overall vision of promoting and talking about environmental protection in the context of economic development in the State. It emphasizes that "environmental protection can benefit our economy—creating green jobs while reducing pollution..."[1] The environmental agenda, like other parts of Cuomo's published agenda for reforming New York State, proposes review and reform of the state's environmental bureaucracy to maximize environmental protection and coordination among agencies, and create cost savings. The Governor-elect would task the state's Spending and Government Efficiency Commission with this review of existing agencies and procedures.[2]
The document also suggests that Governor-elect Cuomo will be as much about the carrot as the stick when it comes to promoting conservation. He proposes a "Cleaner Greener Communities Competitive Grant Program" to help create incentives for sustainable communities, encourage smart growth, and reduce sprawl. The grants would support innovative comprehensive regional plans which incorporate sustainability, transportation, emissions and efficiency issues into the planning framework.[3] Where the funds for such a grant program will come from is not spelled out.
Cuomo's environmental agenda supports the continuation of New York's Brownfield Cleanup Program ("BCP"), including the tax credits component, while streamlining the BCP process to ensure its effective use on those sites that need it most.[4] The document does not address the State's participation in the Federal Superfund program, from which current Governor David Paterson has proposed to withdraw.
Article continues: http://blog.sprlaw.com/2010/11/governor-elect-andrew-cuomo-outlines-environmental-agenda-for-new-york/